Apollo 50th Anniversary Moon MOVA GLOBE
Regular price
$180.00 USD
Regular price
$180.00 USD
Sale price
$180.00 USD
Unit price
per
Celebrate one of the most incredible achievements in human history with this rotating Moon globe memorializing the locations of each successful Apollo mission.

Celebrate the 50th anniversary of the Apollo missions with the rotating Apollo Moon MOVA Globe. Featuring NASA's Apollo 50th logo and the official mission patches showcasing where the Apollo spacecraft touched down on the lunar surface. The 50th anniversary logo looks back at the missions to the Moon while setting NASA's sights onto Mars with both being featured within the logo.
Displays the official NASA Apollo 50th logo and mission patches
Limited run product
Uses Images from NASA
Turns using ambient light
Hidden magnets provide movement
No cords or batteries
How it Works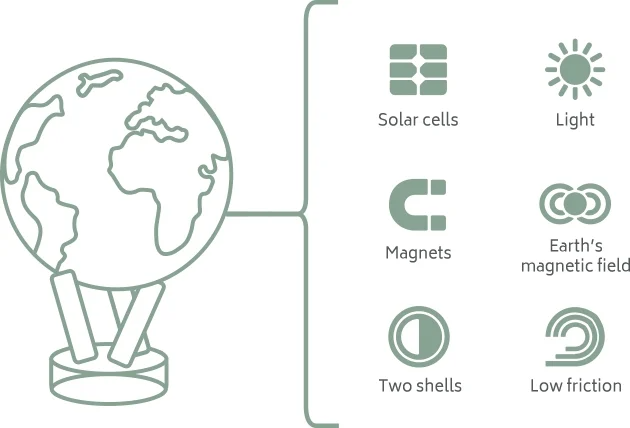 MOVA Globes combine effortless performance with eye-catching graphics. Each handcrafted globe mingles vibrant artwork with our patented technology for flawless rotation without batteries or messy cords. Hidden solar cells use ambient light for power, while the earth's magnetic field provides the necessary torque. These elements work in unison to power a whisper quiet mechanism, allowing the globe to rotate within a clear outer shell. Each piece is assembled with such precision, it appears the inner and outer layers are one – rotating without any outside power source.
Warranty
MOVA Globes are assembled by hand using the highest quality materials. Every MOVA Globe is guaranteed to be free from defects in materials and workmanship for 1 year from the original date of purchase when handled with proper care.
Share
Apollo 50th Anniversary Moon MOVA GLOBE
Item arrived in a timely manner, was well packed. As described. I set it up and it was spinning around. Great gift for someone, or even yourself. I bought 2 of them, so one will be a gift. Love it!! I highly recommend Turnmeyer Galleries.