---
Comes with acrylic tripod base as shown in the photo. 
How it Works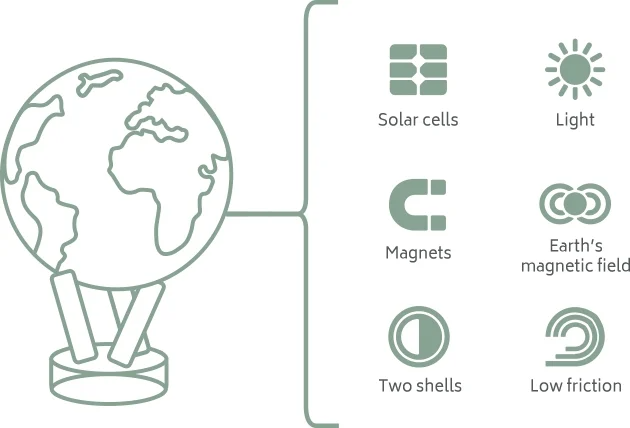 MOVA Globes combine effortless performance with eye-catching graphics. Each handcrafted globe mingles vibrant artwork with our patented technology for flawless rotation without batteries or messy cords. Hidden solar cells use ambient light for power, while the earth's magnetic field provides the necessary torque. These elements work in unison to power a whisper quiet mechanism, allowing the globe to rotate within a clear outer shell. Each piece is assembled with such precision, it appears the inner and outer layers are one – rotating without any outside power source.
Warranty
MOVA Globes are assembled by hand using the highest quality materials. Every MOVA Globe is guaranteed to be free from defects in materials and workmanship for 1 year from the original date of purchase when handled with proper care.
Very pretty globe!
The Starry Night MOVA globe is a beautiful display piece for the home. I wish the colors were a little more vibrant, but it's still fun and whimsical, and definitely a conversation piece. It shipped SAME DAY (received shipping info just minutes after I ordered) and was very well packaged. I'm very pleased with my purchase. :)
Starry globe
I was very pleased with the globe and also appreciated you prompt reply to my inquiry.
Many thanks.
Van Gogh Starry night
Just arrived, size 4.5" so the smallest one I think but I didn't want a huge one, it sits on my side board whirling around with natural light and then at night we have a lamp near it so it happily carries on whirling until we switch off the lights. I love it, arrived very well packaged in its own box inside another bigger box with extra padding. I have wanted one every since I saw them in a shop in the USA, I live in Australia so had to buy online from Turnmeyer Galleries, fantastic service Highly recommend this company and totally recommend the Mova globes, just fascinating to watch amazing how they work.